When the sun goes down, things begin to heat up with a variety of Hilton Head Island nightlife options. Don't be fooled by this laid back, sleepy little beach town; the Island has its fair share of exciting happenings each evening, with something everyone will enjoy!

You'll find a good mix of different nightlife entertainment choices on Hilton Head. Swinging singles, romantic couples, and families of all sizes are in for an evening of fun on the Island.
Whether you stroll the boardwalks of Harbour Town and Shelter Cove to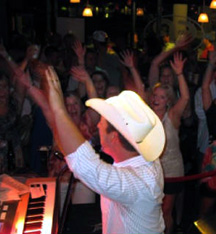 see fireworks with the kids, visit a local wine bar to share a bottle of vino, or hit the bars and dance clubs for an evening of cocktails, great local live music and dancing, you will have a blast when you spend a night on the town in Hilton Head Island for sure!

Check Out These Island Hot Spots!
Big Bamboo Cafe
Coligny Plaza
(843) 686-3443
Live music every night at this 1940s themed restaurant and bar. Happy hour featuring great food and drink specials!

Electric Piano Bar
33 Office Park Road
(843) 785-5397
The Electric Piano Bar, located in Park Plaza, is one of the best venues on Hilton Head Island to see top local acts. The Electric Piano Bar has live music nightly, an area for dancing, lots of sing-a-longs and great drink Specials. Come out and have some fun at the Electric Piano Bar!

The Frosty Frog Daiquiri Bar
1 N Forest Beach Dr # I8
(843) 686-FROG

Home to Hilton Head's coolest drinks, the Frosty Frog Daiquiri Bar, located in Coligny Plaza makes great daiquiris and webbed foot-licking... or rather...fingerlicking good food.

Hilton Head Brewing Company
7 Greenwood Drive
(843) 785-2739
You must try the award winning wings, and of course sample some of the micro-brewed beers. This is the only Micro-brewery on Hilton Head, and was the first in South Carolina since Prohibition!


The Jazz Corner
C1 Village at Wexford
Hilton Head Island, SC 29928
(843) 842-8826
50s and 60s-style smooth jazz, from some of the World's top jazz musicians. Great dinner selection and wine list!

Quarterdeck Lounge & Patio
149 Lighthouse Road
Hilton Head Island, SC 29928
(843) 671-2222
At the bottom of the Lighthouse in Harbour Town, the Quarterdeck has music from the top 40, plus Beach Music (the official state music of South Carolina!)

Reilley's Grill and Bar
7-D Greenwood Drive
Hilton Head Plaza Off Sea Pines Circle
(843) 842-4414

Reilley's Grill & Bar has been serving up delicious food for twenty seven years. A true Boston pub, dine indoors or out, check out the big game, sip a few cocktails at happy hour,enjoy nightly dinner specials with family, or toast to the good life at Champagne Sunday Brunch.

Remy's Bar and Grill
130 Arrow Road
Arrow Center
(843) 842-3800

A local favorite since 1984, Remy's has always been known for its fresh local seafood and is home to some of the Island's favorite bands. Open late!
The Tiki Hut
1 South Forest Beach Drive
On the beach behind the Holidy Inn
(843)785-5126

The Tiki Hut is Hilton Head's only true Beach Bar with live entertainment each night. Grab a cocktail and join your friends on the beach at the Tiki Hut!

Wild Wing Cafe
72 Pope Avenue
(843) 785-9464
A Hilton Head Island favorite. Claiming the Best Wings South of Buffalo, as well as a wide array of burgers, salads and other 'bar food', Wild Wing has regular live entertainment 3 nights a week.