About Hilton Head Island, SC
Recently named in TripAdvisors "Top 10 Vacation Rental Hot Spots", Hilton Head Island is a barrier island located off the southern most Atlantic Coast of South Carolina, approximately 45 miles north of Savannah, Ga., 90 miles south of Charleston, S.C., and 30 miles south of historic Beaufort, S.C. The 12-mile long and 5-mile wide island, which is actually shaped like a foot, was the first Eco-Planned community in the United States.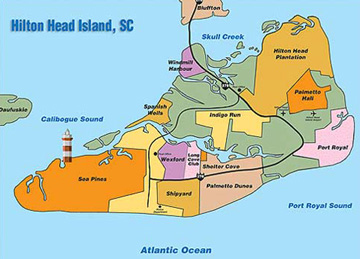 The Terrain
Located on the Intra-Coastal Waterway, Hilton Head Island contains 42 square miles of semi-tropical geography that locals refer to as the Low Country. The Island works hard to preserve the pristine natural environment which offers a relaxing, hospitable atmosphere without the flashy neon lights and excessive signs of some of the more "hectic" beach towns.
Instead, our golf courses, fine restaurants, luxurious resorts and exceptional villa accommodations are beautifully intertwined with our natural salt marshes, lagoons, blossoming magnolias, forests of elegant moss-draped live oaks, towering southern pines and palmetto trees - all surrounded by 12 miles of the best sandy beaches in South Carolina.
Our Wonderful Temperate Climate
Hilton Head Island has a semi-tropical climate and is heated year-round by the Gulf Stream. The Island's average daytime temperature is a mild 70°F (21°C). The annual ocean temperature averages is about the same at a relaxing 69°F (20°C).
The People of Hilton Head
Hilton Head is home to approximately 33,800 permanent residents and hosts around 2.5 million visitors annually!
Places to Stay
Hilton Head Island offers a variety of vacation accommodations to suit any couple, family or group. From full-service hotels and luxurious resorts to a quaint bed and breakfast in the heart of town to beachfront villas with private swimming pools; there is surely a place that everyone's needs. In fact Hilton Head Island has more than 6,000 villas; 3,000 hotel/motel rooms; 1,000 timeshare units; 22 properties that offer meeting and convention facilities; and two RV resorts.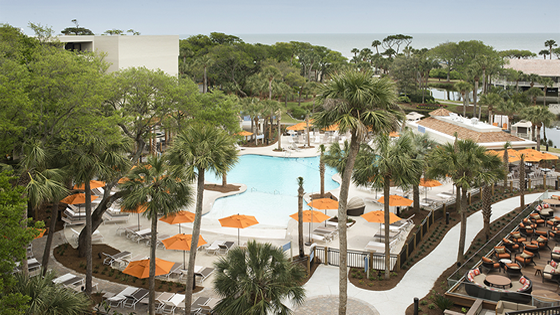 How Do I Get to the Island?
Guests can fly directly into the Hilton Head Airport, which is conveniently located approximately 5 miles from all Island resorts, hotels and rental villa and home accommodations. Visitors also have the option to fly into the Savannah/Hilton Head International Airport, which is located 45 miles away in Savannah, Georgia.
If traveling by car, guests should know that we are located off of Exit 8 on Interstate 95. Simply make a left at the end of Exit 8 and follow Highway 278. Approximately 25 miles later you will cross the bridge that takes you to the Island of Hilton Head!
Things to do
One of the best things about Hilton Head Island is that you can do as much or as little as you choose! Relax on one of our beautiful beaches or poolside at your rental villa and catch up on the latest, greatest novel or get busy being active with a bike ride, parasailing excursion or go scuba diving with the fish!
Other Hilton Head Activities Include:
Surfing
Kayaking
Historic & Nature Tours
Windsurfing
Fishing & Crabbing
Golf & Tennis
Horseback Riding
Sailing
Nature Preserves
Dolphin Watching Cruises,
Gullah Heritage Tours
Waterskiing
Arts and Cultural Activities
Shopping
Fine Dining and much, much more!
Golf, Tennis or Boating Anyone?
Hilton Head is home to 23 golf courses, including 5 private courses and there over 40 additional courses in the local Low Country area.
The Island also boasts 300 Tennis Courts, with 8 clubs available for resort play.
If you are a boating enthusiast, you will also be pleased to know that there are 8 Marinas on the Island.
Cultural Events on the Island
Hilton Head Island is home to a large and ever growing cultural community of music, fine art, and theatrical venues. If you are interested in experiencing any of the many cultural experiences opportunities, give us a call and we can help you with your choice of galleries and performances, cultural exhibits and more:
Hilton Head Playhouse
Arts Center of Coastal Carolina
Hilton Head Orchestra
Reperatory Theatre
Hilton Head Dance School
Cole-Heyward House Historic Center
The Coastal Discovery Museum.
Beaches, Beaches and More Beaches
Hilton Head Island boasts 12 miles of pristine beaches with public access. Need to park? No worries, metered parking is available at the following locations: Coligny Beach, Alder Lane, Folly Field Road, Dreissen's Beach Park, and Collier Beach Park.

Dining Out on the Island
Hilton Head is home to some of the best cuisine you'll find in the state of South Carolina. There are over 250 restaurants on the Island, ranging from fast-food to Southern favorites and specialty gourmet choices. Experience all major ethnic cuisine, including French, German, Italian, Caribbean, Japanese, Greek, Chinese, Thai and Mexican. And by all means, don't forget to enjoy some famous local seafood while you are here!
Shopping
There are over 200 shops located on Hilton Head Island. Choose from an indoor mall with major department stores to elegant boutiques featuring designer brands. We also have a wide array of major retail stores as well as many independent art galleries and locally owned specialty shops. In addition, Bluffton, which is located just over the bridge from the island boasts the Tanger Outlet which is a must see for die hard shoppers looking for a great deal!